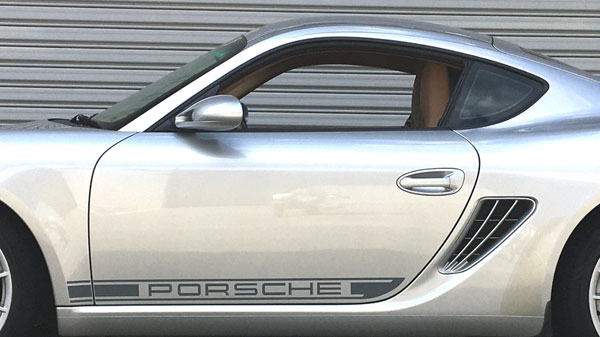 Get a sportier sound from your stock 987.1 Cayman/Boxster exhaust system!
After I purchased my 2006 Cayman S, I thought the factory exhaust tone was far too quiet!
After visiting forums I found that many Cayman S owners think the same.
If you want to keep your factory system but prefer a sportier sound with improved exhaust flow but no drone (resonance) in the cabin.
If you don't want to send your mufflers overseas and pay the currency exchange rates and freight costs and you don't want to install an after-market system that could be ill-fitting, too much drone or ridiculously expensive, we can help.
This video shows exhaust sound comparison of Stock and Mako Tuned. The tuned option offers a tastefully sporty sound and better gas flow without drone! Modifications comply with (Australian Design Rule 79/01)
Our service delivers value-for-money and convenience using your own mufflers
*We are located in Sydney's North
Please contact us with any questions on 0408964217 or email us
Step 1: Order and Pay for your tune.
Step 2: We will send you the address to send or deliver your mufflers to.
Step 3: Within one week we rework your mufflers inside.
Step 4: We return the mufflers
(return shipping cost is calculated online, before you commit)
Turnaround Time: About 1 week from when we receive your mufflers.
(we sometimes have a pair of mufflers in stock for outright purchase - contact us for a price and availability)
Customer Testimonials:
Hello Tony, I am very happy with the muffler modification, great sound, not too much when cruising, but fantastic when you rev up. Thank you for your excellent job and services.
Rob Castle Hill NSW 987.1 Cayman
I want to say a huge thanks to Tony and his team at Mako. I run a Porsche Cayman in the Sports Series in Perth and needed an upgraded exhaust system which was proving very expensive to source as most are UK / US imported and naturally very expensive. After lots of on line research I came across a local manufacturer from Sydney that had engineered a solution that provided the sound and air flow upgrades at a fraction of the cost. Tony being a Toolmaker by trade had the skills and attention to detail that ensured the modifications were conducted remained of the highest quality. In Fact I work with a number of Porsche race car engineers whom could not find any evidence of the new work as the welds were as good if not better than factory spec. The price also was a fraction of the imported systems and the turnaround was within a week.
I couldn't be happier with the exhaust system that Mako provided and by using my stock system, then engineering the upgrades, naturally the fit back was perfect. I couldn't recommend Mako more highly and above the great result an absolute pleasure to deal with.
Brad Dunne Perth WA 987.1 Cayman
I didn't want to speak too soon until I had a good run, but I drove it tonight and the roof was down and it's an absolute pleasure to drive the car again. (after the after-market exhaust)
The sound is absolutely ideal in my opinion.
Bloody fantastic sound I only drive it once a week & when I do it's just beautiful Porsche sound through & through.
Robert Bagala Sydney NSW 987.1 Boxster