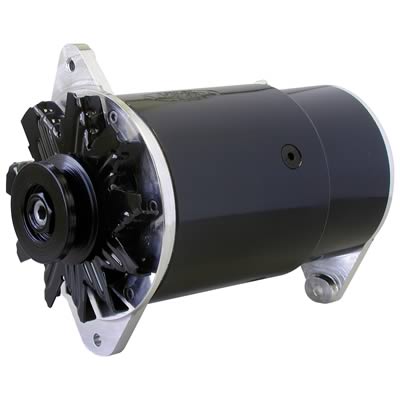 Nostalgic Alternator in OEM Style Generator Case
Prices on application
Get that nostalgic look of a generator and the reliable charging power of an alternator all in one! These alternators are designed to fit where the original generator was mounted.

If you want the look of an original generator, but the reliability and power of a modern alternator, this is the answer. It looks just like the generator your classic car came with or it can add the traditional look to any hot rod or street rod. But this is not old technology; it's a modern, powerful alternator that can keep up with all of the latest electrical accessories you have added to your ride. One-wire operation, producing 90 amps, with a whopping 60 amps at idle and is only 1/4'' larger in diameter than a stock generator. They are available in either black, polished, or chrome finishes.
Available in 12V or 6V and both Negative and Positive earth.
Choice if three finishes: Black (as shown) Poilshed or Chrome
The Short GM unit is 5.95 inches between the mounting ears and the Long GM is 7.13 inches between the mounting ears. For vehicles that have the P/S units driven off the rear of the OE generator, you would have to install a separate P/S pump.
Prices on application, call 02 9453 9199 or email us