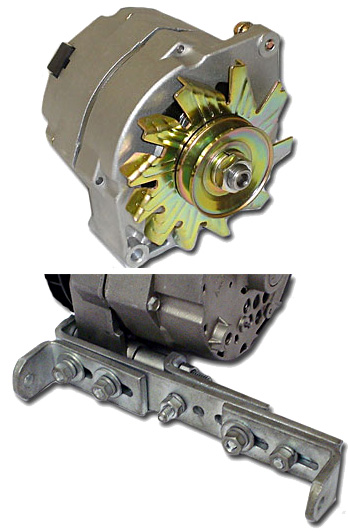 Alternators for Generator Conversions
Prices on application
This is a great replacement alternator for upgrading from a 6 Volt system. It can also be used as a high output upgrade on vehicles with a factory 12 Volt generator. These alternators are available in 12V Negative Ground or 12V Positive Ground. It is a 1-wire alternator, so there is only an output cable required for installation. They can also be used to control a dash light by using our special wiring harness for $30 extra.
Mounting Kit Available
Easily mount an alternator in place of your factory generator. Are you tired of the low output of your OEM generator? Make the switch easy with this fully adjustable bracket. The two ears will bolt on to your existing OE generator bracket or block just like your original generators ears and then you can install your choice of numerous Ford and GM alternators available. Check out our 1-wire offerings or 6 volt alternators available in this store. This bracket will make it easy to get the proper belt alignment.
Available in 12V or 6V and both Negative and Positive earth.
Choice of two finishes: Natural or (Chrome extra $60)
Prices on application, call 02 9453 9199 or email us