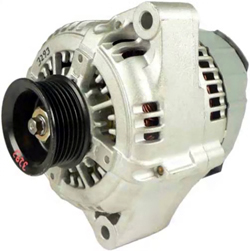 Landcruiser 2003-2007 4.7L -- 320 Amp
Price includes delivery anywhere in Australia
Our high output alternators are a direct bolt-in replacement for your original factory alternator.
Please note that we need five working days to build these alternators for you.
Our US supplier has been in the business of manufacturing and rebuilding high performance and heavy-duty alternators and starters for over 10 years. The largest portion of their operation is dedicated to servicing emergency vehicles and the limo industry. From this experience, they have been able to determine which products will provide the highest output and which will stand up to the toughest environments.
For prices on anything listed below call 02 9453 9199 or email us
These also available for other Landcruisers:
1969-1974 3.9L -- 140 Amp
1988-1992 4.0L -- 160 Amp
1975-1987 4.2L -- 140 Amp
1993-1997 4.5L -- 140 Amp
1998-2002 4.7L -- 180 Amp
2003-2007 4.7L -- 240 Amp
2008-2010 5.7L -- 240 Amp
2008-2010 5.7L -- 320 Amp