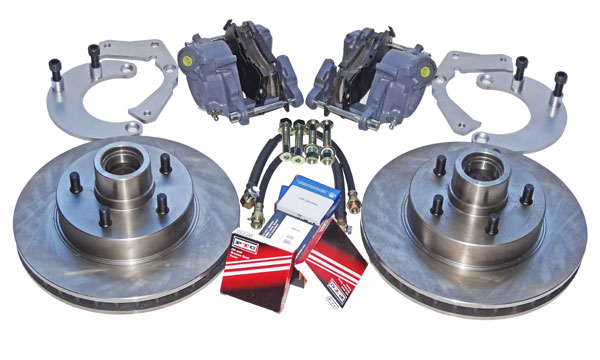 2) BUICK Disc Brake Conversion Kit
(63-70 Riviera, 61-70 Electra, LeSabre, Invicta and Wildcat)
(this kit will fit all 15" factory rallye rims and after-market mags, factory steel rims will need the hubs on the rotors to be machined down to match the ID of your rims's centre hole)
These powerful calipers and large rotors are designed to stop 2 ton+ cars and trucks but yet compact enough to fit factory 15" rims without any modifications to your vehicle or the need for wheel spacers. Spare parts and pads are available worldwide. Computer designed and precision waterjet cut brackets.


Easy to fit.



This kit includes:
New Vented Rotors 11.86" (301.244mm) dia 1.28" (32.5mm) thick - Full size Buick 5 on 5" stud pattern
Left & Right powerful Calipers and Pads
New quality inner and outer wheel bearings and seals
All mounting hardware (precision waterjet cut adaptor brackets with high tensile bolts)
Approved Rubber hoses (pair) with 2 banjo bolts
FAQ's (frequently asked questions)
Scan through what we have here and if your query is not covered, please contact us.
Technical questions most welcome.
1. What modifications if any may be required to fit this kit?
This kit is designed to simply bolt-on without any modifications to the vehicle.
Some model Buicks will require a small modification to part of the spindle.
2. Do these brakes comply with the latest relevent standards?
This kit uses all OEM General Motors rotors and calipers.
* The kit should be fitted by a qualified mechanic and by rights the intallation certified by an engineer.
3. Are replacement parts available?
Yes, everything except the brackets are standard GM and available over the counter.
4. Some existing kits available only have 11" rotors small calipers.
What are the benefits of larger rotors and larger calipers?
Efficient braking requires the conversion of your car's kinetic energy into heat. This heat is produced by friction between the rotor and the disc brake pads The rapid dissipation of this generated heat is critical to good brake function. These huge calipers will slow a 2 ton vehicle down quicker and easier.
5. I have power drum brakes, can I use the same booster with this kit?
Yes, amazingly you can, there is no need to change booster with this kit except for early sixties models.
6. Does the master cylinder have to be changed?
No, this brake kit will work fine with the original factory 1" bore MC. However, you should consider upgrading to a Dual Brake Master Cylinder for obvious safety reasons. This is identifiable by the size of the reservoirs. One larger (for front) and one smaller (for rear).
*Australian customers - HQ Holden MC have 1" bore and will make an easy and inexpensive upgrade.
7. Will I need to install a Proportioning Valve?
No we don't believe so based on our experience on 66 LeSabre, 67 and 68 Riviera. *check laws in your own part of the world in case it's a requirement when upgrading to disc brakes.
After the test car's brake pads were bedded in the brake system is perfectly balanced so rear brakes do not lock up under hard braking.
* With the factory drum brakes it's easy to lock up all the wheels, which is particularly dangerous in the wet.
Disc brakes will make braking more progressive and safer and you will feel confident allowing others to drive your car in all conditions.
8. How will I know if my system is balanced or not?
Once the new brakes are bedded in which can take about 100 kms (60 miles) of use it can be determined quite quickly if front to rear braking is balanced by test driving in a quiet street or carpark. With the rear drum brakes adjusted correctly, if the rear wheels lock up easily under hard braking compared with before, you could
a) install a proportioning valve which goes between the MC and the two lines. Or
b) change the rear wheel cylinders to smaller bore.
* Original bore dia is 1") Switch the rear wheel cylinders to Ford (1949-74) which have a 7/8" bore and bolt straight it
We do not think this will be necessary however!
TESTIMONIALS
Tony! You beautiful Aussie SOB! The brakes are FANTASTIC!! I'll say, the first 3 times I went for them tooling down my street, they just weren't there. I had nothing. Then BOOM! They came right on as things settled. It stops so good!!! Thank you!!!!!!! I'll be getting another set of brackets maybe next winter
Jeff Holthenrichs USA - 1969 Riviera
Hi Tony Just got back from taking the Buick for a run to Stanwell tops. The more I drove the car the better the brakes felt. It was money and effort well spent. Should have done it years ago. Thanks to you and Greg for your help, professionalism and time.
Regards Rod Learmonth Sydney - 1967 Riviera
Hi Tony, Just drove '68 to Bulli and back. Brakes performed really well...they pull straight from above 100kph (nice change), no shudder or lock up. I have checked hose connections and can't see any weeping. I felt wheels/rims once a arrived home front and back only slightly warm. I have now done about 80miles and so far very good. Thought you might be interested.
Greg Massey Sydney - 1968 Riviera
Hey Tony, Couldn't be happier with the brackets. They fit great and definitely made a big improvement to the stopping power of my Riviera. I have recommended your kit to many people with '68-'69 Rivieras looking for better braking. It is hands-down the way to go in my eyes. Thank you again!
Aaron Myhre - USA 1969 Riviera