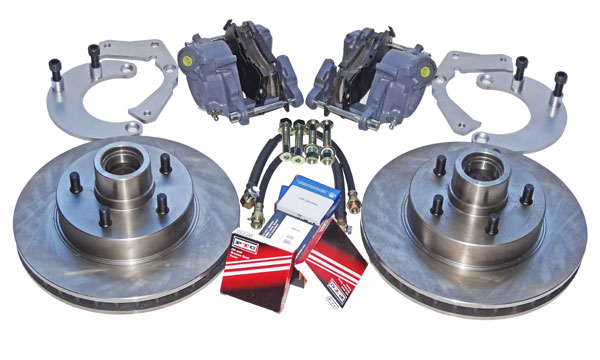 Buick Disc Brake Bracket Kit USA only
(63-70 Riviera, 61-70 Electra, LeSabre, Invicta and Wildcat)
(this kit will fit all 15" factory rallye rims and after-market mags, factory steel rims will need the hubs on the rotors to be machined down to match the ID of your rims's centre hole)
(price shown above in Australian dollars)
Currency Exchange rate click here for live converter anytime
Your purchase includes the following items only for your specific Buick model:
Left & Right main adaptor brackets
Left & Right caliper mounting brackets
All mounting hardware: high tensile bolts/nuts and crush tubes specifically for your model.
You will purchase the following items in the USA yourself:
*we will provide all the part numbers and suggested suppliers in the USA
New Vented Rotors 11.86" (301.244mm) dia 1.28" (32.5mm) thick - Full size Buick 5 on 5" stud pattern
Left & Right powerful Calipers and Pads
Inner and outer wheel bearings and seals
Correct Rubber hoses and Banjo Bolts
Please email us for a parts number list to complete your kit's costing. email us here
The powerful calipers and large rotors are designed to stop 2 ton+ cars and trucks but yet compact enough to fit factory 15" rims without any modifications to your vehicle or the need for wheel spacers. Spare parts and pads are available over the counter in the USA.
Our custom brackets are computer designed and precision waterjet cut, then, tapped and modified for specific models.


Easy to fit.


Please email us your zip code for the shipping. email us here
NB. The picture shown includes a complete kit but we are just selling the bracket kit with hardware on this page.
TESTIMONIALS
Tony! You beautiful Aussie SOB! The brakes are FANTASTIC!! I'll say, the first 3 times I went for them tooling down my street, they just weren't there. I had nothing. Then BOOM! They came right on as things settled. It stops so good!!! Thank you!!!!!!! I'll be getting another set of brackets maybe next winter
Jeff Holthenrichs USA - 1969 Riviera
Hi Tony Just got back from taking the Buick for a run to Stanwell tops. The more I drove the car the better the brakes felt. It was money and effort well spent. Should have done it years ago. Thanks to you and Greg for your help, professionalism and time.
Regards Rod Learmonth Sydney - 1967 Riviera
Hi Tony, Just drove '68 to Bulli and back. Brakes performed really well...they pull straight from above 100kph (nice change), no shudder or lock up. I have checked hose connections and can't see any weeping. I felt wheels/rims once a arrived home front and back only slightly warm. I have now done about 80miles and so far very good. Thought you might be interested.
Greg Massey Sydney - 1968 Riviera
Hey Tony, Couldn't be happier with the brackets. They fit great and definitely made a big improvement to the stopping power of my Riviera. I have recommended your kit to many people with '68-'69 Rivieras looking for better braking. It is hands-down the way to go in my eyes. Thank you again!
Aaron Myhre - USA 1969 Riviera