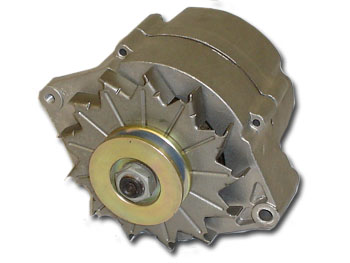 Early GM High Output Alternator 120 Amp -- 85 amp idle
(external voltage regulator)
Price includes delivery anywhere in Australia
New Original Style Delco 10DN alternator as a higher output replacement alternator for the original factory units. You can keep your vehicle looking original and still run the extra accessories that you need. These units are available in 80, 100, or 120 amp varieties in natural or chrome finishes. They will mount and hookup with the original factory wiring and will be compatible with the stock voltage regulator.
Internal Regulator: These new quality alternator can be used as a high output replacement for stock alternators or generators or as a simple 1 wire hookup on street rods. This is the same as the early GM 10SI and 12SI internally regulated alternator but built to provide higher output at idle. It requires only the battery cable (1-wire) to be hooked up at the rear of the unit. Install the alternator, start the vehicle, step on the gas slightly and the alternator will start to charge on its own. This is the easiest installation possible! We build these units to provide as much amperage at an idle as the original does at max RPM. They can also be used to control a dash light by using our W290 wiring harness. These alternators will replace externally and internally regulated alternators in GM vehicles from 1963 through 1983. Also perfect for street rods and project cars.