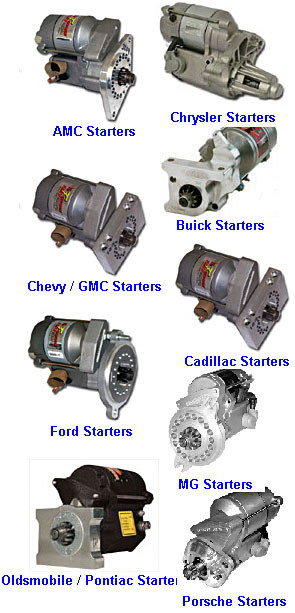 High Torque and Replacement Starters For All Makes and Models
Our US supplier manufactures standard fitment high torque starters and replacement starters.
Replacement Style: Now you can replace that 22-pound OEM starter with a brand new higher torque 8-pound starter. Not only will it be easier to install, but also since it is a permanent magnet gear reduction unit it will turn the engine over faster and have less amperage draw. The solenoid sits further from the exhaust eliminating the most common failure associated with OEM units. Because it has no field windings, it will start your vehicle better under high heat conditions.
Hi-Torque Style: These starters will work on both the small block and big block engines and will mount up for both the large and small flywheels. Available in both a 1.9HP (up to 12:1 compression) and 2.7HP (up to 15:1 compression) version. The 1.9HP version is a permanent magnet style planetary gear reduction starter, has a rotatable front mounting plate, and is extremely low profile. The 2.7HP is off-set gear reduction to produce more torque. These are brand new units built to last.
Most popular models covered are: AMC, Buick, Cadillac Chevrolet, GMC, Chrysler, Ford, International, Jeep/Willys, MG, Oldsmobile, Pontiac, Porsche, Triumph and VW.
Delivery: Shipped by USPS delivery 7-10 working days (see sample tracking)