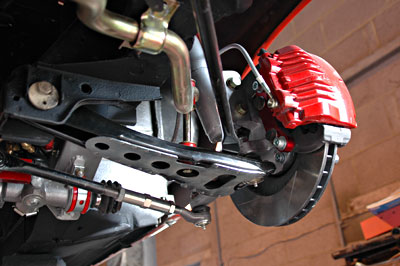 Our sway bars are professionally made with over 40 years experience using the finest grade spring steel and available for most makes and models of cars. Painted in your choice of five available colours. Each bar is supplied with polyurethane mounting D-bushes and D-saddles ready to bolt on. Some are complete kits with all mounting hardware.
If your vehicle's make and model is not shown in our calalogue, email us for your special request using the link on the menu above or call 02 9453 9199 now!
Definition
A sway bar (also referred to as a stabilizer bar, anti-sway bar, roll bar, or anti-roll bar, ARB) is an automobile suspension device. It connects opposite (left/right) wheels together through short lever arms linked by a torsion spring. A sway bar increases the suspension's roll stiffness its resistance to roll in turns, independent of its spring rate in the vertical direction.
Expected Improvements
Without reducing comfort, a custom-made sway bar will improve your suspension and tyre's performance. More grip and better response to all road conditions.
Delivery: Custom-made & shipped by courier (allow 8 weeks at the moment)
Check which Price Group your vehicle model's sway bar fits into by clicking here now
NB. What is shown in the catalogue is heavier duty that standard bar diameter originally used on your model.
To order even thicker bars, go up one price group for every 2mm increase in diameter, then add the diameter in the space provided.
1963, 64, 65 Buick Riviera

Rear Sway Bar Kit - $410 add to basket
Bolt-in, no cutting or welding 22mm in dia. includes all mounting hardware required.
Drive after about one hour installation. (see detailed online instructions)
Front Sway Bar - $410 add to basket
Replacement heavy duty front bar 26mm dia with new urethane D-bushes and saddles.
Brett Lynch, TAS Honda CRX
Just emailing you to say the swaybars arrived an they fit an 88-90 crx with perfection, I am so happy with the quality of the product thank you for constructing them, I will inform all my friends with crx/civics of that era that they are amazing ;)
George Harley, VIC Mitsubishi Magna AWD
Quick not to say a BIG Thank You for the sway bar. It arrived on Thursday and I installed it immediately. Drove a little while later to go to a friends house and the difference was dramatic to say the least! Back end now tight and flat around bends, changing lanes at HIGH speed is made with laser like precision. The car feels like a race ready rocket but still very comfortable to drive. I was also impressed with how your sway bar matched the factory spec bar in shape and fitment perfectly.
Trevor Vrettos, VIC BF Falcon Tray Utility
Just a brief note to thank your organization for giving us the time of day and patience to solve a potential serious problem.
Our Ford BF series 11 RTV tray utility developed swaying from side to side at speed due to the beefing up and raising the suspension to accommodate the so called one ton capacity that it was supposed to carry.
Everyone we spoke to could not come with a solution and your company not only had the solution but made the sway bar and links to match the RTV unusual suspension and diff set up.
I strongly suggest anyone who has an unusual suspension problem or requires suspension parts to contact your organisation. Again a big thankyou.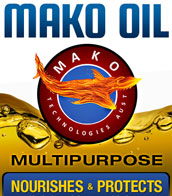 Click Here to Take a Look